What is galvanized steel box?
As you all know that, zinc is a metal with special properties, it has the ability to resist heat and corrosion the best and is often used as a protective layer for materials such as: steel, iron. Because of that, it is used to cover all materials such as steel pipe, steel box, steel plate. 
The gavalnized steel box  is a form of steel that is structured in the form of a tube and is covered by a thick galvanized layer on the surface. This layer helps steel to improve the quality as well as to increase the life of steel pipes. Because of such durability and quality that it is applied a lot in constructions today. 
Advantages of
gavalnized steel box
Ability to withstand high pressure even the inside of steel box is empty, and because of the delicate design, the steel pipe can suffer from inclement weather.

Good corrosion resistance, the surface is covered by a galvanized layer that increasing the corrosion resistance, and anti-rust also.

The gavalnized steel box is widely used in water pipes, oil pipes, gas pipes, waste pipes.

With a simple design, so the setting and the use of galvanized steel box are very quick, does not take much time and effort.

Classification of galvanized steel pipes.
Because the industries have different needs, galvanized steel pipes are designed differently depending on every industry and field.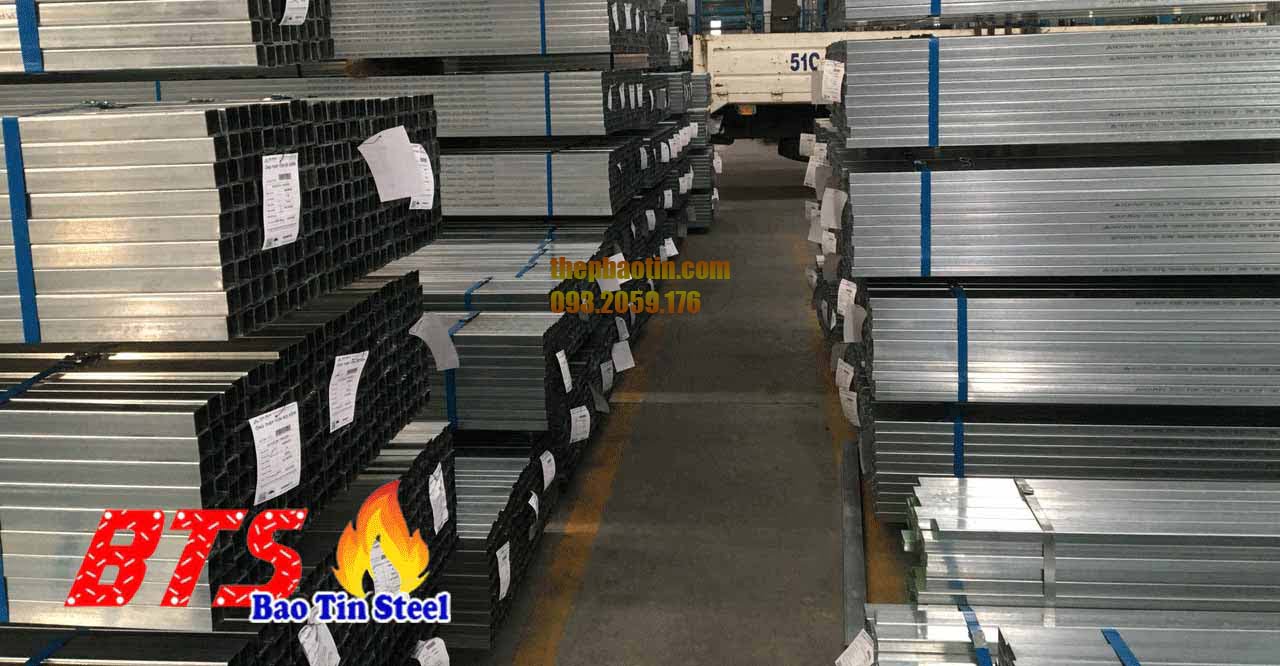 Price list of the galvanized steel box
Currently, there are many types of steel boxes that produced by many different manufacturers on the market. Every type of steel box has its different price, depending on the buyer's choice. The price of galvanized steel box is too, depends on the manufacturer's brand. Therefore, it will take a lot of time to calculate the price of the galvanized steel box. At the same time, the steel price will also fluctuate over time, so customers can contact us for the betst price and earliest.
Buying cheap

galvanized steel box

in Long An
Customers in Long An need to buy gavalnized steel box , please contact us – Bao Tin Steel Co., Ltd. Hotline – Zalo 0932059176  to receive an accurate quot.
Because the steel price often changes over time, so the price lists we showed on our website are only for reference.
How to buy steel products at Bao Tin Steel Co., Ltd
Delivery at Place
Step 1: You send us the order, we check inventory and quotation.
Step 2: Bao Tin Steel sends you quotation of gavalnized steel box, free ship, method of payment.
Step 3: You deposit or pay all value of the order.
Step 4: Bao Tin Steel delivers to the requested place.
Step 5: You receive products and check the quantity of the gavalnized steel box at the construction site or your warehouse, sign the receipt of delivery, check VAT invoice, receive the original quality certificate of products.
Step 6: You make a payment of remaining amount (if any). 
We sell products of steel with absolute prestige, so you can completely take comfort in buying galvanized steel box at Bao Tin Steel.